Pin It now!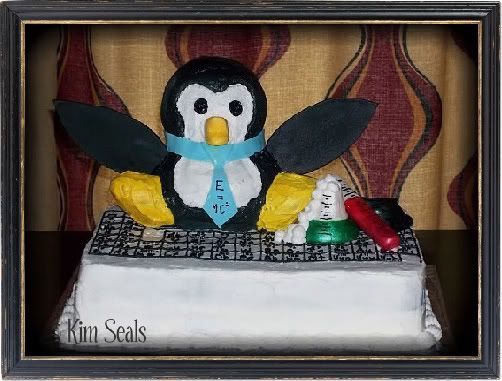 This guide focuses on how to make the penguin (step 4). You can place your penguin on an iceberg wearing a scarf or have him stand alone to create a winter theme. Make him a birthday penguin by adding a party hat to his head (
contact us
for information on how to purchase a gumpaste party hat through Piece of Cake Decorating). Here I have added a test tube, beaker, goggles, tie, and partial periodic table create a science penguin (
contact us
for information on how to purchase these gumpaste items through Piece of Cake Decorating). In other words, you are not limited to what you see here.
To make this cake you will need....

Wilton Bear Pan
Yellow, blue and black gumpaste (you can use white and airbrush later)
Large rectangle cake board
8 inch round cardboard cake divider
2 1/2 Sheet Cakes
White, Black, and Yellow buttercream icing
Tips #2, 3, 5, 12 (x2) and 32
Wooden dowels
Lollipop sticks
Gumpaste beaker, test tube, and goggles
Directions:
Step 1
A few days in advance make your wings, beak, test tube, beaker, and goggles out of gumpaste. See pictures below for tips on the wings and beak.
Contact us
for information on how to purchase the goggles, test tube and beaker from Piece of Cake Decorating.
*Please note that I have made my gumpaste decorations white and painted them later with an airbrush.*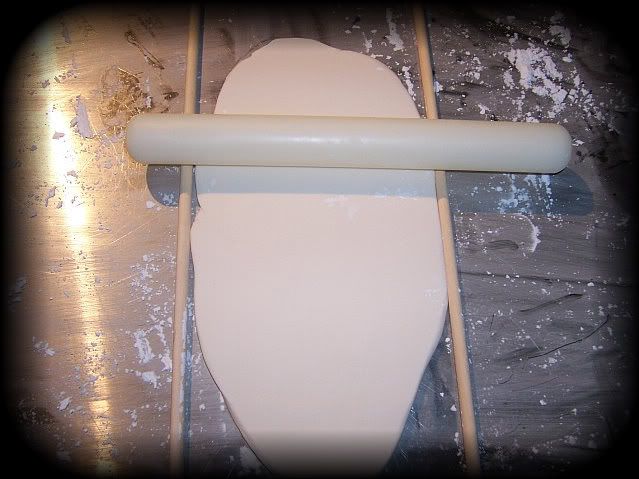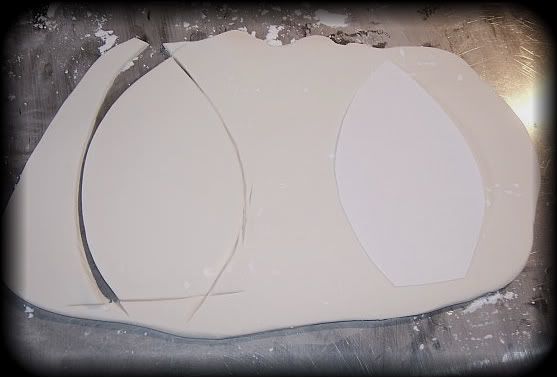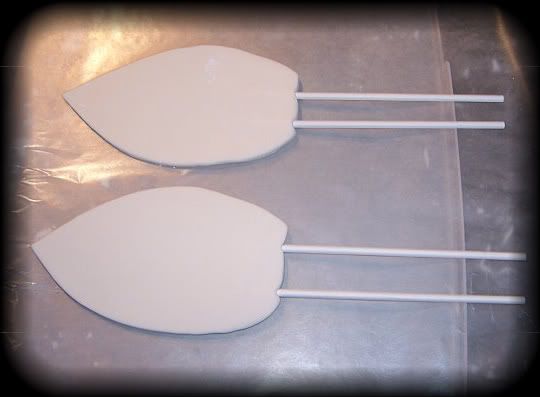 Level, tort, fill
and stack your 1/2 sheet cakes. Next, ice your 1/2 sheet cake with white buttercream icing and pipe on as much of the periodic table as you can fit using tip #3 for the lines/letters, tip # 2 for the numbers, and black buttercream icing. The boarder was piped using tip #32.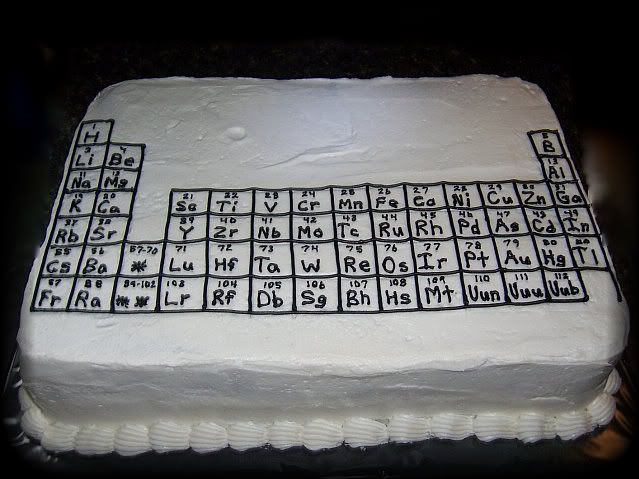 ***Decorator's Tip***
Make this step even easier and order an
edible image
from Piece of Cake Decorating.
Step 3
Measure, cut and place wooden dowels where your penguin will be sitting.
Step 4
To make the penguin, bake pound cake in your Wilton Bear Pan. I use pound cake because it is denser. Therefore, it will hold up the wings and beak better. Once your bear cake is baked, cut off the arms and face. Refer to the picture below as a guide.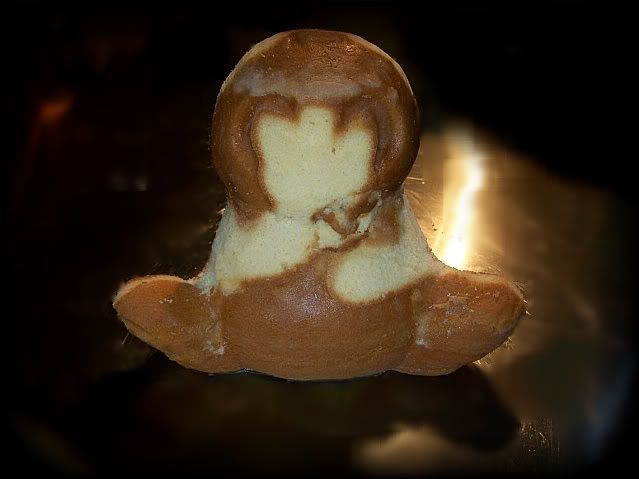 ***Decorator's Tip***
Freeze the cake over night to minimize crumbs and ensure cleaner cuts when carving.
Step 5
Using my original picture as a guide, ice the body with black icing. Be sure to leave the face, belly and feet uncovered.
Step 6
Using tip #5 and white buttercream icing, pipe the outline of the face/belly. You can either fill in the remaining space using a spatula or a piping bag and smooth it when you are done.
Step 7
Next, ice the feet with yellow buttercream icing.
Step 8
Using blue fondant or gumpaste, make the penguin's tie.
Step 9
Using tip #12 and black icing, pipe the eyes on the penguin. Then, re-use tip #2 to write on the tie.
Step 10
Carefully place the penguin on the cake and hammer a sharpened dowel through the center of the penguin. You can then add the wings and beak to the penguin. Next, add the gumpaste decorations and use tip #12 and white buttercream icing to make bubbles coming out of the beaker.
____________________________________________________________________________________________